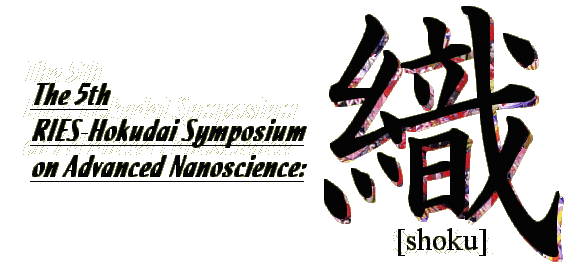 Date : December 1 - 2, 2003
Venue : Hokkaido University Conference Hall, Sapporo, Japan →MAP
Organizer : Research Institute for Electronic Science (RIES) of
Hokkaido University
Scope of Symposium
The first international RIES-Hokudai Symposium has been convened in 1999, and it will welcome the fifth anniversary this year. The key theme of the symposium this year is "

[shoku]", which symbolizes "Advanced Nanoscience". This single Japanese Kanji (also known as a Chinese character) originally means the integration of fine structures, such as woven fabric. However, in this symposium, we project the concept of "

[shoku]" upon Bottom-Up Process, such as the creation of functional structures, cells and proteins that are consisting of atoms and molecules. This significance is embodied in the terms of reference of this symposium.
Atop the list, inviting Prof. Heinrich Rohrer, the Nobel Prize winner in Physics in 1986, (for the design of the scanning tunneling microscope,) and renowned experts both in Japan and overseas, our objective is to discuss recent issues and exchange innovative viewpoints in the interdisciplinary fields (i.e. photonic science, material science and life science.) This opportunity will contribute tremendous benefits to all participants.
Program
Program of this symposium is here.
About RIES
(Research Institute for Electronic Science of Hokkaido University)
The Research Institute for Electronic Science has conducted a number of pioneering works in "Electronic Science", a new interdisciplinary science, based on electronics that include physics, chemistry, mathematics, biology, informatics, system engineering, and bioengineering.
For the purpose of making a progress further by integrating and biotechnology, we newly opened Nanotechnology Research Center, in 2002.
Free Registration (closed)
The registration for this symposium is free of charge and open to the public. If you wish to attend the Symposium, please click here to register.
Travel Information
For flying into Chitose International Airport(the closest airport to Sappporo,) there are a couple of options:
From Narita International Airport of Tokyo:
Two direct flights are available daily.
Transportation from Narita Airport to Haneda Airport takes 70 minutes by a limousine bus.
From Kansai International Airport in Osaka to New Chitose Airport:
9 daily flights are available.
The New Chitose Airport is connected to downtown Sapporo by a rapid train every 15 minutes with a 36-minute ride.
More detailed information about Sapporo
is available in
this web site
Location of Hokkaido University Conference Hall