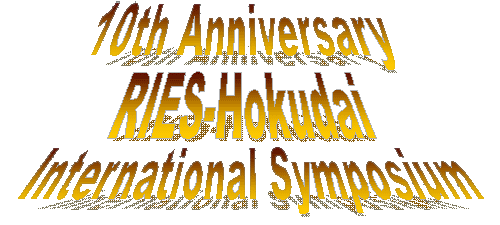 (The Fourth RIES-Hokudai Symposium:

(Ki))
December 9(Mon)-11(Wed), 2002
Keio Plaza Hotel, Sapporo, Japan
Organized by Research Institute for Electronic Science (RIES)
Sponsored by 21st Century COE Program "Center of Excellence for Advanced
Life Science on the Base of Bioscience and Nanotechnology"
Scope of the symposium

A series of international symposia organized by the Research Institute for Electronic Science (RIES), Hokkaido University, have started in 1999 (RIES-Hokudai Symposium). The fourth symposium will be held as a memorial event of the 10th anniversary since this year marks the 10th anniversary of the re-foundation of RIES. Our Institute has started in 1993 for opening up a new interdisciplinary and transdisciplinary research area named "Electronic Science". For this reason, we have now a variety of specialists, which include those in biology, chemistry, electronics, physics and mathematics. All the specialists attempt to create the area of Nano-Science by collaborating with each other. The symposium will focus on the advanced science which is symbolized by a single Chinese character (Japanese kanji) of "[Ki]", which means principle, mechanism, construction or devise. Kanji ideoms with "" , which have their special meanings, are composed by combining another kanji. We have invited overseas and domestic distinguished scientists, and the discussion will be done in the interdisiplinary and transdisciplinary field of photoscience, material science and life science, with a special attention to function"", mechanism"" and machinery"" in nature.
Free Registration(closed)

The Symposium is free and open to the public. If you want to attend the Symposium, please click here to register.
For more information, contact symposium secretary at sapporo@es.hokudai.ac.jp.


Travel information


A standard access by air to Sapporo from overseas is to reach New Chitose Airport of Sapporo either via Tokyo or via Osaka. From Tokyo to New Chitose Airport,there are two possibilities.

From Narita International Airport of Tokyo, one or two direct flights are available daily. From Haneda Airport of Tokyo, 45 flights are available. Transportation from Narita Airport to Haneda Airport takes 70 minutes by a limousine bus.

From Kansai International Airport of Osaka to New Chitose Airport, 9 daily flights are available.

The New Chitose Airport is connected every 15 minutes to downtown Sapporo by a rapid train service of 36 minutes duration.
More detailed information about Sapporo
is available in this web site
Last update : Dec 24, 2002