Hiromichi Tsukada, Graduate Student of the Third Year
Laboratory of Complex Systems Research*, Research Institute for Electronic Science
Research for interpreting the functions of the brain in a mathematical model, using mathematics
We also conduct a joint research with an experimental laboratory and work on a theory based on observed phenomena.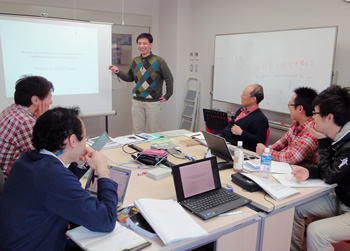 I am studying in the Laboratory of Complex Systems Research* (Tsuda Laboratory). The purpose of this laboratory is to gain an understanding of nature with a focus on nonlinear phenomena. The laboratory proceeds researches using mainly mathematics and computers. On the other hand, we perform joint researches with experimental laboratories, and therefore we can work on a theory based on observed phenomena.
I am currently involved in research to interpret the functions of the brain as a mathematical model. When a human being performs cognitive activities, we can observe the frequencies of his/her brain waves. The brain may use the vibration of a neuron population to contribute to information processing. We examine how this phenomenon affects a human being's attention, cognition, and memory, and address the challenge of understanding the functional aspects of the brain by forming a mathematical model based on the anatomical structure of the brain and simulating the brain by the model.
Relationships with multidisciplinary researchers/experimentalists allow us to address our research from several standpoints.
Our members lodge together for research training every year. It is possible to be very productive on the campus of Hokkaido University.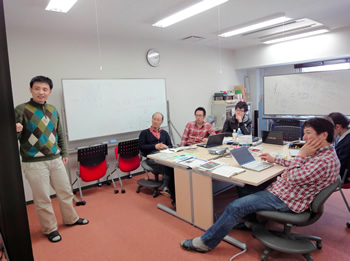 We have connections with experimentalists in many different fields, which allow us to address our research from both a theoretical and experimental standpoint. Our supervisors give us fruitful advises on our research themes, respecting each student's personality and interests. With a wide range of research themes, students can research areas that they really want to study. Although being a member of a theoretical laboratory, one student liked fish and wanted to examine the functions of the fish brain, then planned experiments and promoted the research into the functions. In addition, our laboratory values individual research initiatives. A student who single-handedly picks out a research theme that interests him/her can create a study group or seminar in which all the students gain a better understanding of each other's researches. When many students create their own seminars, the one-week schedule is jammed full with seminars.
Every summer, the members of the laboratory visit a location somewhere in Hokkaido to lodge together. This gives those students that come from other prefectures a great opportunity to travel the inside of Hokkaido. Basically, these students can go to places that they have never been to though we sometimes go to a general tourist spot. I well remember our travel that not only made us feel at home, but which gave us the opportunity to enjoy climbing and also get seasick.
Since the Institute at Junijo building is very close to the street of ginkgo trees and off-campus or central restaurants, students can easily step out to eat. The pork cutlet on rice in restaurant F, which is just outside the Jusanjo Gate, is excellent. (It's a favorite of mine.)
Interaction with other laboratories is promoted. Several times every year, sports events such as ping-pong, tennis, bowling, and softball are held, while local food events such as a jingisukan party are held. Interaction between the supervisors, students and academic officers are made across the laboratories through these events.
Yukie Yokota, Post-doctoral fellow
Laboratory of Green Photonics*, Research Institute for Electronic Science
Since I graduated from the Faculty of Pharmaceutical Sciences, I experienced principles and experiments for the first time in many cases.
I learned the ways as researchers based on the support from the professors and fellows.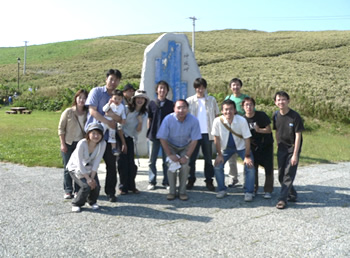 I belonged to the Laboratory of Green Photonics* of the Research Institute for Electronic Science (RIES) for six years as master and Ph.D. course students for 5 years and a post-doctoral fellow for one year. During my undergraduate years, I was in the Faculty of Pharmaceutical Sciences of the University of Tokushima. When I enrolled in the master's course, therefore, I experienced for the first time the fabrication of metallic nanostructures in a clean room using precisely controlled nanofabrication techniques and Raman scattering spectroscopy.
Students have opportunities to study wide varieties of academic researches and fields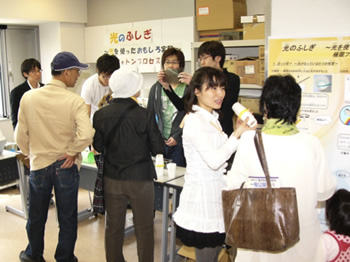 Because the Laboratory of Green Photonics is in the Green Nanotechnology Research Center, my first visit to RIES building (Kita Junijo Building before being transferred) was two month later after admission as a master course student. At that time, I first came to know that professors in a wide range of academic fields including chemistry, physics, biology, and mathematics were working in the Institute. Afterwards, I was able to learn about the research being proceeded by professors and the wide range of the research fields being addressed through lectures and RIES international symposiums. I also participated in the jingisukan (a special BBQ) party, one of the Institute's social gatherings, several times. This gave me a chance to observe other aspects of the professors in an informal setting, and I enjoyed this very much.
The laboratory of Green Photonics is one of cooperative courses of the Division of Bioengineering and Bioinformatics of the Graduate School of Information Science and Technology. Consequently, I belonged to the Biophotonics (Prof. Misawa's) Laboratory as a student of the Graduate School. I believe that I led an excellent life as a researcher in the laboratory because I have experienced the good portions of both the Graduate School of Information Science and Technology and RIES.